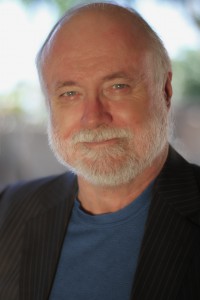 John Lunsford was born in Fort Worth, Texas, at the outset of the baby boom generation. The culture of the time was wide-eyed with wonder and optimism. Imbued with that sense of wonder, he set himself a grand adventure: to learn how to read. Once he mastered that, he read everything he could get his hands on—which led him to his interests in and questions on just about everything. He wanted to know the how and why of all of existence. His fascination with 20th-century history in grade school led directly to the questions that have become compass points in his life: What if? And then what?
The monstrous, ridiculously complex computer he encountered at Texas A&M during his freshman year lit a bonfire under him and his questions. Over the next 40 years he made a profession out of working with software engineers to make their code as error free as possible. Incredibly challenging, his work is a source of immense satisfaction for him.
His work encompasses an array of accomplishments. He designed and worked on the data links that send information to and from satellites. During the first fifteen years of the personal computer revolution, he taught people who had never seen a computer how to use one. Then he co-created and taught to engineers a class on how to build fax machines from the ground up, which consumed the next fifteen years. That effort has carried him around the world several times.
He has watched and been a part of the exponential acceleration in the development of computing technology. His lifelong experience with it has cultivated in him a feel, a vision for the growth that led to his Escape the Machine trilogy. It presents us with a "what if" that is fraught with both possibility and peril. It is quite possible that the human race will see more change in the next twenty years than it has seen in the last thousand.
John's grandmother went from Tennessee to Texas in a covered wagon and lived long enough to watch men walk on the moon broadcast on her television set. John has watched computers go from devices that absorbed vast hours of human thought to, very possibly, beginning to think about us.
It's going to be fascinating to see what happens next.